Dating Women from Russia and Ukraine – Why is it so Popular?
Why are so many Men Attracted to these Women?
Our online dating site offers quality and affordable services aimed to help men from Australia and any regions of the world to get in contact with single women from Russia, Ukraine and other Former Soviet Union countries. Because of demographic reasons and social factors, tens of thousands of single women in these countries cannot find a man to share their life with. There is a lack of available men and part of those who are single are not looking for serious relationships with a commitment, they are not faithful and have bad habits such as drinking. Of course, this is not what most of these single women are looking for in a life partner. Although they wish to find their soulmate locally, many end up broadening their search of a life partner to other parts of the world.
Unfortunately, there is a particularity with the "Russian women dating" industry; it is infiltrated by all kinds of scammers and dishonest people. Wherever is an opening for scamming people, scammers find it and take profit of the situation. However, another particularity about Russian women dating is that there are indeed decent ladies who are single and trying to find a good man from abroad. Men of the West and other regions are aware of this and travel to Russia and Ukraine to meet single women and hopefully find the one they will marry. Generally speaking, women from Russia and Ukraine are more family oriented than women in the West and don't mind trading their career to become a housewife. They are hard workers and have generally worked hard since their early adult life, they generally have a higher education and are career minded but the family remains the top priority.
Women from Russia and Ukraine have the ability to work out their career and family life. This is not something easy to do and at one point in our lives, we all stress about how to do this. They surely stress about it too, but somehow, they seem to have developed an ability to do it. With easy access to technologies, social networks etc., nowadays anyone can be well connected and informed about what is happening in the world. Russian girls and Ukrainian girls make no exception. However, despite the ability and desire to have a career and financial autonomy, they still keep the family a top priority and they won't mind doing the personal sacrifices that comes along with it. This is part of the traditional family and it is what many men in the West are looking for in a wife.
While Developing a Relationship with a Woman from Russia or Ukraine
How to Behave – What to Do and Not to Do
In many ways, dating women from Russia or Ukraine is not very different that dating women on the local scene. The best advice is to behave in a similar way as when dating women locally or from anywhere: be humble, sincere, polite and respectful. Don't elaborate too much about what you have but rather about whom you are. You should focus on finding a woman who is interested in your personality, not your assets. Talk about the important things; family, children, career, friends, hobbies, where do you see each other in 10 years etc. If you feel she is a bit shy at talking about herself and asking you questions about yourself, make her comfortable to do so.
Either you and your ex are in good terms or not, it is not advisable to elaborate on this subject, at least not in the first meetings. Same thing about her past relationships, don't bother her with this. However, it is important to let her know that you are not only single but also legally able to marry and of course, this should invite her to do the same. The question of children is a very important one. About existing children if any, about the desire or non-desire to have common children in the future and if she has children, does she plan to bring them with her and if so, does she need the father to give written permission.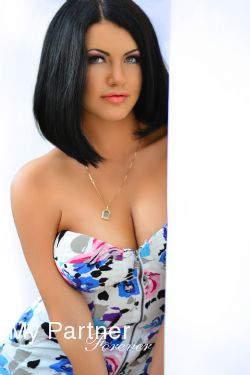 Although this may sound superfluous, we still like to remind you that you will be in a foreign country and that the culture and traditions make it so words that you will interpret in a certain way may be interpreted in a quite different way by the lady. Whenever you feel there is a misunderstanding, do what is needed to clear it up. Don't let them pile up. This is particularly true if you don't share a common language that you are both fluent in and of course, it may very well be the case.
Again, this may sound superfluous: regarding intimacy, we definitely recommend that you rule this out and don't attempt to share any at least before a few meetings occurred. Russian women are generally pretty traditional on this aspect. Concentrate on the important things and let intimacy come naturally. Remember: you've been working on this project to find a Russian or Ukrainian life partner probably for some time, you've travelled all this distance and you are now in the presence of a woman who could potentially be your future wife!